I fundamentally misunderstood the purpose of leadership as President of CSI Pitchmasters.
I thought club membership growth was a measuring stick of my leadership.
I thought successful events was an indicator of my influence.
I thought being called, "the best president we've ever had," meant I was doing everything right.
I was certainly and without a doubt wrong. The truth is I failed as a leader.
Not because anyone said so, as you can see from above I've been praised over and over again for my dedication to our members, for representing our club professionally, and for ensuring that we meet our club key performance indicators, I say I failed because I know it in my heart of hearts that anyone could have done what I did this past year.
It's relatable to being a peacetime general. In good times, when you're growing, when the revenue curve is going skywards, you don't really see leadership. In fact, it's not really that important. Everything's working with or without great leadership. When you need leadership is when things go wrong. It's when the curve flattens, you're losing members/ employees, the economy tanks.
But my lousy leadership wasn't that I didn't make more problems that I could stand up heroically and solve. My biggest mistake is that i didn't take advantage of the most important function of a leader during peace times. Developing other leaders.
The leaders most important task is to take good people and make leaders out of them.
You see, in any organization whether that be a non-profit like CSI Pitchmasters, your own business, or even your families and communities, people are the only assets that can continually appreciate. Systems become outdated, buildings deteriorate, machines wear down, but people can grow, develop and become more productive and effective if they have a good leader who understands their value.
Over the past 12 months I've been surrounded by 5 incredible board executives and over a dozen members all of which I'm extremely fond and proud of. Saying that I haven't seen tremendous growth in them right before my eyes would be a lie. But their incredible growth is a by-product of an environment we've created, nothing to do with my personal leadership. In fact, it's so clear to me now that on many occasions I was standing directly in the way of their growth. Here's why: I didn't give my team the space to fail and win and because I was insecure.
I took on jobs that should have clearly been delegated. And tasks that would have been huge confidence boosters for members, ended up on my plate because I didn't set proper expectations and encourage members to take them on with pride and enthusiasm. When I look back, most of the talk about being an awesome president was because I took on so much work, personally.
We all had it twisted.
The best leaders would have inspired, delegated, and encouraged its members to take on the work and grow personally. They would have consistently modeled the behaviour they wanted to see,  mentored the team to acquire new skills, recognized their personal accomplishments and established the right support systems incase there were challenges.
That is the role of the leader!
Not taking on all the work, but ensuring the team grows in the pursuit of accomplishing lofty projects. If you've experienced this problem as well or want to be wise and avoid these mistakes as a leader completely, follow these two principles.
It's in a leaders best interest to let your team win or lose
Understanding your teams abilities will multiply your effectiveness. The first step to great leadership is to surround yourself with people of great potential. That wasn't my problem. My problem was that I didn't know how to properly delegate responsibilities and tasks. Instead of recognizing my teams strengths and capabilities, I did everything myself. When I should have been confident in my team and motivated them to take on projects, I stepped in and stunted their growth potential.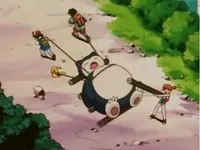 What I've learned is that it's important to give your team opportunities to show you and themselves that they are capable. Fostering leadership is about putting people in a position to become leaders themselves. And to do that without micromanaging. I didn't clue into the fact that it was actually in my best interest all along to let them win or even fail because then you both know moving forward whether or not they're suited for that task. Once you know what your team is and isn't capable of you can delegate appropriately and multiply effectiveness.
Great leaders are not threatened by people with great potential
Gary Vaynerchuk has an excellent analogy where he says that as an entrepreneur building a company he wants to build the biggest building in town. And he wants to do that by building the biggest building in town… Unlike how most other business people do it by tearing down other people's building.
When it comes to my relationships with people I've definitely never purposefully tried to build a bigger building by tearing down anyone's building, but I sure have been threatened by others buildings. I'm being very transparent for the sake of drilling deep into my own personal psychology when I say that I do avoid giving others opportunities, or share their work when I love it, or hold on to my own personal learning because I've convinced myself that if I do, they will build a bigger building than me.
Joze Piranian bumped me out of the Speaker Slam Grand Slam first place spot by .5 in November of 2017 and I still haven't shared his incredible speech on Facebook (until now). I don't share valuable insights that I know could help my roommate, Iain, because he's already so damn smart and it exposes my insecurities. Finally, I don't pass along all of the best practices in selling I've learned with specific members of my team at work because with it I know they'd outsell me.
Why? Because I'm not secure as a leader.
It's an unproductive, disempowering, and candidly a pathetic place to come from as a leader. Fortunately I recognized the need for change.
Great leaders, the type of leader I want to become, are not threatened by people of great potential.
Great leaders want to lift them up and help them soar higher. I've learned that in order to be a great developer of people you need to be personally secure, because taking people to the height of their potential may mean they will pass you by…
And that's okay. Our job as a leader isn't to look good or to be at the top of some hierarchy. It's to work hard and model the behaviour we want to see in our people. It's to mentor and coach potential leaders to achieve big goals, goals bigger than the individual.
It's about developing other leaders.
This radically transparent reflection, while painful, is necessary. It''s not only necessary for me to be completely honest with myself, but it's also critical for you, if you also want to step into a leadership role, to see yourself in my example. To decide whether or not you're truly developing people or if you're holding them back because of micromanagement or insecurity.
Do this.
Give your team the space and opportunity to win and lose. Taking on all the work may get you short term credit and pleasure, but it doesn't lead to long term satisfaction, trust and results. I want to challenge you to give your teams more challenging tasks and coach and encourage them until they've stretched into the leader they have the potential to be.
Seek ways to elevate your team higher than yourself. Just like you move beyond mentors and coaches when you're ready, the same should be happening with your people. If you're maximizing your responsibility as a leader they should surpass you in skill and ability as well. Give them the strength, encouragement and recognition they deserve. It will only make the world a better place.
Till next time stay on the offensive. Aggressively pursue a better version of yourself. And remember what Jim Rohn said, "you cannot change the destination of your life overnight. But you can change the direction."
-J
Out.